Easy Chicken Stroganoff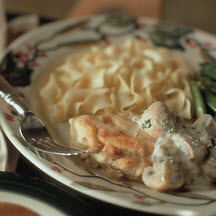 Recipe provided courtesy of the National Chicken Council.
Recipe Ingredients:
1 pound skinless, boneless chicken thighs (or breast), cut in pieces
2 tablespoons butter
2 tablespoons all-purpose flour
1 medium onion, chopped
8 ounces mushrooms, quartered
1 1/2 cups chicken broth
2 tablespoons Dijon mustard
1/2 cup sour cream
3 tablespoons chopped flat-leaf parsley or 1 tablespoon dried parsley
2 cups cooked egg noodles
Cooking Directions:
In a large nonstick skillet, place butter and melt over high heat.
In a shallow dish, place flour, add chicken and turn to coat well.
Place chicken in skillet and cook, turning, about 5 minutes to brown on both sides.
Stir in onions, mushrooms and any unused flour. Reduce heat to medium and cook, stirring, about 5 minutes or until onion is golden brown.
In a small bowl, whisk together chicken broth and mustard, pour mixture into skillet and stir. Bring to a boil, reduce heat to simmer and cook about 10 minutes more or until fork can be inserted in chicken with ease. Stir in sour cream and parsley; simmer an additional 2 minutes.
Serve over egg noodles.
Makes 4 servings.
Recipe and photograph provided courtesy of the National Chicken Council. Used with permission.