Easy Oven-Fried Chicken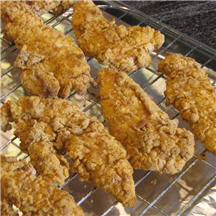 Crispy on the outside, moist and tender on the inside and only 5 grams of fat per 2-strip serving! Serve these crispy chicken strips with your favorite dipping sauces. They are also great served cold, making them ideal for picnics and other outdoor dining activities.
Recipe Ingredients:
6 (4-ounce) boneless, skinless chicken breast halves, cut lengthwise into 12 strips*
Kosher or sea salt, freshly ground black pepper and garlic powder, as needed
1/2 cup buttermilk or low-fat plain yogurt
1 cup all-purpose or whole wheat flour
2 teaspoons baking powder**
2 teaspoons paprika
1 teaspoon kosher or sea salt
1/2 teaspoon freshly ground black pepper
1/2 teaspoon garlic powder
Vegetable cooking spray
Suggested Dipping Sauces for Accompaniment: barbecue; honey mustard; sweet and sour, etc.
Cooking Directions:
Preheat oven to 425°F (220°C). Line a large baking sheet with aluminum foil (the foil is for easier clean-up, you can omit this step if desired); place oven-safe wire rack in foil-lined pan; liberally coat rack with cooking spray; set aside.
Sprinkle chicken strips with salt, pepper and garlic powder on both sides (or use your favorite seasoning salt instead).
Place buttermilk or plain yogurt in a large bowl, add chicken strips, gently toss to coat and set aside.
Mix together the flour, baking powder, paprika, salt, pepper and garlic powder in a large plastic bag.
Gently shake off excess buttermilk or yogurt and add chicken strips, one piece at a time, to flour mixture, close bag and shake to coat well.
Place chicken pieces on wire rack(s); spritz liberally with cooking spray, carefully turn pieces over and repeat.
Bake for 20 minutes, remove from oven and carefully turn chicken strips over, and if needed, spritzing any dry areas with cooking spray. Return to oven and bake for 5 to 10 minutes more or until done (180°F | 85°C).
Serve hot or cold, with or with dipping sauce.
Makes 6 servings.
*Or use 1 1/2 pounds ready-cut chicken breast tenders.
**Baking powder gives the coating more crunch.
Nutritional Information Per Serving (1/6 of recipe or approximately 2 chicken strips): 243.7 calories; 19% calories from fat; 5.2g total fat; 66.6mg cholesterol; 258.3mg sodium; 359.0mg potassium; 17.7g carbohydrates; 0.8g fiber; 1.1g sugar; 16.9g net carbs; 29.1g protein.
Recipe and photograph by Hope Cantil; copyright © 1999; property of CooksRecipes.com. See Terms of Use.