Georgia Pecan-Stuffed Honey Mustard Chicken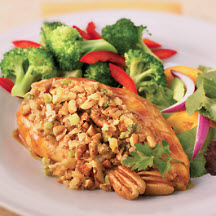 This recipe can easily be doubled to make chicken for a crowd. The stuffing can be made ahead, but should be added to the chicken just before it is baked.
Recipe Ingredients:
4 tablespoons honey mustard - divided use
2/3 cup dry bread crumbs
2/3 cup Georgia pecans, finely chopped
1/4 cup green onions, chopped
2 cloves garlic, chopped
1/2 teaspoon each salt and ground black pepper - divided use
2 tablespoons butter, melted
4 boneless skinless chicken breast halves
Cooking Directions:
Preheat oven to 350°F (175°C).
Spread 2 tablespoons honey mustard in a 13x9x2-inch baking pan.
In a medium bowl, combine bread crumbs, pecans, green onion, garlic and 1/4 teaspoon each salt and pepper. Toss with melted butter to coat mixture.
To make pocket for stuffing, turn each chicken breast half on its side and cut a 3-inch long slit in the thickest part. Cut as deeply as possible without slicing completely through the chicken.
Divide pecan stuffing mixture among chicken breast halves, filling each pocket generously so it mounds slightly.
Arrange chicken pieces, stuffing side facing up, in prepared baking pan. Brush remaining 2 tablespoons honey mustard on outside of each piece of chicken. Sprinkle with remaining 1/4 teaspoon salt and pepper; bake 30 minutes or until cooked through and stuffing is golden brown.
Just before serving, spoon pan juices over chicken.
Makes 4 servings.
Nutritional Information Per Serving (1/4 of recipe): Calories: 333; Total Fat: 20g; Cholesterol: 52mg; Total Carbs: 18g; Fiber: 3g; Sodium: 696mg.
Recipe and photograph courtesy of Georgia Pecan Commission.