Grilled Chicken and Chorizo Skewers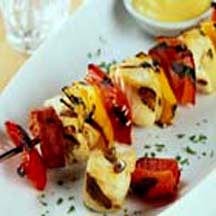 The cumin aïoli perfectly complements the taste of these flavorful skewers of chicken and chorizo sausage.
Recipe Ingredients:
1 pound chicken tenderloins, cut into 1-inch pieces (or use boneless, skinless breast)
1 pound chorizo sausage, sliced and cut into "half moons"
1 large red bell pepper, cut into 1-inch pieces
1 large yellow bell pepper pieces, cut into 1-inch pieces
1 large Spanish onion pieces, cut into 1-inch pieces
Bamboo skewers (soaked in cold water ahead of time)
Salt to taste
Black pepper to taste
Olive oil to brush before grilling
Cumin Aïoli (recipe follows)
Chopped parsley to garnish
Cumin Aïoli:
1 cup mayonnaise
2 teaspoons Dijon mustard
1/2 teaspoon finely minced fresh garlic
1 to 2 tablespoons ground cumin powder (or to taste)
Cooking Directions:
Assemble the skewers alternating ingredients.
Season with salt and pepper and brush with olive oil.
Grill until chicken is cooked.
Serve with cumin aïoli. Sprinkle parsley to garnish.
For Cumin Aïoli: Mix all ingredients together. Chill at least 1/2 hour to let flavors develop.
Makes 4 servings.
Recipe and photograph provided courtesy of the National Chicken Council. Used with permission.