Grilled Chicken and Sweet Potatoes with Orange Glaze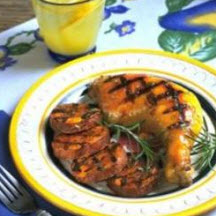 During the summertime, nothing tastes better than food cooked over the coals, and despite the heat, outdoor cooking can be simple with a minimal amount of time working over a hot grill, for instance, like this tasty recipe. And if it's just too hot to even think about cooking outdoors, this recipe can be converted to the oven's broiler.
Recipe Ingredients:
4 chicken leg quarters
1/2 cup orange juice concentrate
1/2 cup maple syrup
2 tablespoons fresh rosemary, chopped
2 sweet potatoes, scrubbed and sliced into 1/2-inch thick rounds
1 teaspoon salt - divided use
1 teaspoon ground black pepper - divided use
Cooking Directions:
Prepare charcoal coals for grill, or preheat broiler.
In a small bowl, mix orange juice concentrate, maple syrup, rosemary, 1/2 teaspoon salt and 1/2 teaspoon ground black pepper.
Place chicken and potatoes on the grill or on a sheet pan under broiler. Sprinkle with 1/2 teaspoon salt and 1/2 teaspoon ground black pepper. Grill or broil chicken and potatoes for 25 minutes, turning all pieces at least once.
Brush chicken and potatoes with one half of orange juice mixture, let cook 30 seconds and turn. Brush second side, cook one minute and turn all pieces again. Cook for one more minute. Remove from heat and serve.
Makes 4 servings.
Recipe and photograph provided courtesy of the National Chicken Council. Used with permission.