Grilled Chicken Breasts with Blueberry Chutney Sauce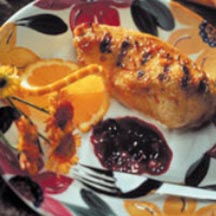 Chicken breasts, marinated in a tangy orange marinade prior to being grilled, are served with a blueberry chutney sauce.
Recipe Ingredients:
Marinade:
3/4 cup fresh-squeezed orange juice (grate and reserve orange rind)
2 tablespoons red wine vinegar
2 garlic cloves, finely minced
2 tablespoons brown sugar, packed
1 1/2 teaspoons Worcestershire sauce
1 teaspoon Dijon mustard
6 boneless chicken breast halves, with skin intact
Blueberry Chutney Sauce:
1 tablespoon olive oil
1/3 cup finely chopped red onion
1/2 cup tomato ketchup
1/4 cup reserved marinade
2 cups fresh blueberries, rinsed, picked over
1 tablespoon fresh lemon juice
1 tablespoon brown sugar
Reserved grated rind of 1 orange
Dash of salt
1 orange, cut decoratively into slices for garnish (optional)
Cooking Directions:
For Marinade: In a shallow pan, whisk together all ingredients. Remove and reserve 1/4 cup of the marinade. Coat chicken in the remaining marinade in the pan. Cover and refrigerate for several hours or at least 1 hour.
For Blueberry Chutney Sauce: In a medium saucepan, heat oil. Sauté onion 2 minutes or until soft. Add the remaining ingredients. Simmer over low, stirring often, 15 minutes or until mixture thickens slightly and the blueberries become soft. Use at once or cool and refrigerate. Rewarm as needed.
Preheat charcoal grill. Prepare Blueberry Chutney Sauce.
Place chicken breast 5 to 6 inches over medium-hot coals. Cook about 6 minutes on each side or until juices run clear and chicken is no longer pink inside. Baste once with reserved marinade towards end of cooking time for final glaze.
Serve each piece of chicken with 2 or 3 spoonfuls of the Blueberry Chutney Sauce. Garnish with orange slices, if desired.
Makes 6 servings.
Recipe and photograph provided courtesy of the National Chicken Council. Used with permission.