Grilled Chicken Cheddar Casserole with Mushrooms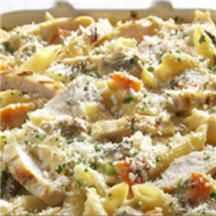 Now here's a comforting chicken casserole with a tasty twist—grilled chicken! This innovative recipe was created by Chef John Caputo of Bin 36, Chicago, Illinois, on behalf of 3-A-Day of Dairy.
Recipe Ingredients:
Nonstick cooking spray
1 pound penne pasta
1 tablespoon butter
1 1/2 tablespoons all-purpose flour
2 1/2 cups fat free milk (whole or 2% can also be used)
1 tablespoon Dijon mustard
1/2 teaspoon hot pepper sauce
1 teaspoon Worcestershire sauce
1/2 teaspoon salt
1/8 teaspoon ground white pepper
3 tablespoons sliced green onion
1/2 cup thinly sliced carrots
1 1/2 cups (4 ounces) sliced mushrooms
1 cup shredded cheddar cheese
4 boneless, skinless chicken breast halves, grilled and sliced
2 tablespoons bread crumbs
1 tablespoon chopped parsley
Cooking Directions:
Preheat oven to 350°F (175°C). Spray a 13x9-inch baking dish with nonstick cooking spray; set aside. Cook and drain pasta according to package directions; keep hot.
Melt butter in a large saucepan over medium heat. Stir in flour and cook 2 minutes, stirring frequently. Whisk in milk, mustard, hot pepper sauce, Worcestershire sauce, salt and pepper. Cook, stirring constantly, about 10 minutes or until sauce thickens. Stir in onion, carrot, mushrooms and Cheddar until cheese is melted. Remove sauce from heat.
Mix pasta into sauce and pour into prepared pan. Arrange sliced grilled chicken over pasta. Mix bread crumbs and parsley together and sprinkle over pasta.
Bake about 25 minutes or until pasta is heated through and edges are bubbling.
Makes 8 servings.
Tip: This dish is also a great use for leftover cooked chicken or turkey. Or, to speed up preparation, purchase ready-cooked chicken breasts or a whole rotisserie chicken at your local deli.
Nutritional Information Per Serving (1/8 of recipe): Calories 380; Total Fat 7 g; Saturated Fat 4.5 g; Cholesterol 55 mg; Sodium 390 mg; Calcium 25% Daily Value; Protein 28 g; Carbohydrates 51 g; Dietary Fiber 2 g.
Recipe and photograph provided courtesy of 3-A-Day of Dairy.