Grilled Chicken, Plantain and Pineapple Skewers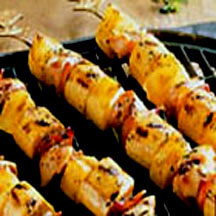 This grilled kabob recipe pairs the rich, flavorful thigh meat of chicken with strips of smoked bacon, tropical plantains and juicy fresh pineapple.
Recipe Ingredients:
8 chicken thighs, boneless and skinless, cut into 1 1/2 inch chunks
4 strips smoked bacon, cut into 1 1/2 inch pieces
1/2 pineapple, peeled, cored and cut into 1 1/2 inch chunks
2 plantains, ripe, peeled and cut into 1 1/2 inch chunks
1/2 cup pineapple juice
1/2 cup lime juice
2 tablespoons chopped oregano
2 garlic cloves, minced
1/2 cup vegetable oil
Pineapple Dipping Sauce:
2 teaspoons vegetable oil
1 large onion, finely chopped
1 (10-ounce) jar of pineapple fruit spread
Cooking Directions:
On 8 (10-inch) skewers*, thread chicken, bacon, pineapple and plantains, alternating ingredients. Set skewers on a non-reactive baking sheet with sides or in a 13x9x2-inch glass baking dish.
In small bowl, stir together pineapple juice, lime juice, oregano and garlic cloves. Pour pineapple juice mixture over skewers, turning to coat all sides thoroughly. Cover with plastic wrap and refrigerate for at least 30 minutes, and up to 24 hours, turning skewers occasionally. Drain and reserve marinade for sauce.
Before cooking chicken, prepare Pineapple Dipping Sauce.
For Pineapple Dipping Sauce: In small saucepan, stir together oil, onion, pineapple fruit spread and remaining marinade. Bring to a boil and cook for 4 minutes before serving.
Prepare a medium hot grill.
When coals are hot, brush skewers lightly with vegetable oil. Grill over medium-hot coals for about 20 minutes, turning often.
Serve skewers hot, passing the Pineapple Dipping Sauce separately.
Makes 8 servings.
*If using bamboo skewers, soak in water for several minutes to prevent burning.
Cooking Note: When traveling South-of-the-Border, many Americans are surprised to find that the cuisine of many Central American countries is simpler and less reliant on spices than they may have expected. Wholesome "home-style" cooking dominates, relying heavily on rice and beans, and meals such as arroz con pollo (rice and chicken) or arroz con tuna are based on this standard fare.
Recipe and photograph provided courtesy of the National Chicken Council. Used with permission.