Grilled Chicken with
Cranberry-Chipotle Cheddar Cheese and Red Pepper Coulis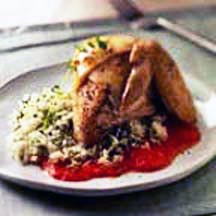 This elegant chicken entrée takes considerable effort, but the end result is well worth the extra work.
Recipe Ingredients:
Chimichurri Sauce:
3 tablespoons olive oil - divided use
2 tablespoons sherry wine vinegar
2 tablespoons lemon juice
6 garlic cloves, chopped
1 shallot, chopped
1/2 bunch fresh flat leaf parsley, chopped
1/2 bunch fresh cilantro, chopped
4 sprigs fresh oregano
4 tablespoons fresh basil, chopped
2 jalapeño chiles, seeded and chopped
1/4 teaspoon crushed red pepper flakes
1/2 teaspoon salt
1/4 teaspoon black pepper
Coulis:
2 red bell peppers, chopped
1/2 cup (4 ounces) rice wine vinegar
Rice:
2 cups water
1 cup white basmati or long grain rice
Chicken:
4 "airline" chicken breasts (skin on, rib bones removed, but wing attached)
8 ounces Carr Valley Cranberry-Chipotle Cheddar cheese, thinly sliced or shredded
Cilantro sprig for garnish
Cooking Directions:
For Chimichurri Sauce: In food processor, combine 2 tablespoons olive oil, sherry wine vinegar, lemon juice, garlic, shallot, parsley, cilantro, oregano, basil, jalapeños and red pepper flakes. Pulse until well blended but not puréed. Season with salt and pepper; set aside.
For Coulis: Cook red bell peppers and rice wine vinegar in heavy bottom pot until peppers are very soft. Purée mixture in food processor until smooth. Set aside.
For Rice: Bring 2 cups water to a boil in heavy bottom pot. Add rice; cover and simmer until rice is tender, about 15 to 20 minutes. Stir in 2 ounces (1/4 cup) of the chimichurri.
For Chicken: Rub both sides of chicken with remaining 1 tablespoon olive oil; sprinkle with salt and pepper.
Place chicken on hot grill or grill pan and cook 3 minutes. Rotate 45 degrees and cook another 2 minutes or until done. Flip chicken and repeat. (Cooking time will depend on size of chicken; cook through.)
Top chicken with cheese during last 2 minutes of cooking, or run under broiler for 1 to 2 minutes to melt cheese and avoid overcooking chicken.
For Final Preparation: In center of each plate, spoon 2 ounces (1/4 cup) red pepper coulis. Gently spoon rice over sauce. Place chicken on top of rice. Garnish with cilantro sprig.
Makes 4 servings.
Recipe and photograph provided courtesy of Wisconsin Milk Marketing Board, Inc.