Grilled Chicken with Green Beans and Walnuts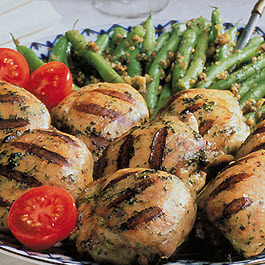 This recipe uses the rich, juicy thigh meat of the chicken, a perfect meat for cooking over the coals. The dish is almost a meal in itself, as it combines the chicken with crisp green beans and a wonderful toasted walnut dressing.
Recipe Ingredients:
Green Beans:
1 pound green beans
Marinade:
1/2 cup olive oil
1/3 cup lemon juice
1 1/2 cups cilantro leaves
Dressing:
1 cup walnuts, toasted
3 tablespoons walnut oil
1 garlic clove
1/2 teaspoon salt
1/4 teaspoon black pepper
Chicken:
8 chicken thighs, skinless and boneless
Salt and freshly ground black pepper to taste
Cooking Directions:
For Green Beans: In pot of boiling water, place green beans and cook about 5 minutes. Drain beans; run under cold, running water.
For Marinade: Place olive oil, lemon juice and cilantro into the bowl of a food processor. Whirl until cilantro is finely chopped. Remove 1/2 cup of olive oil marinade; place in a large Ziploc plastic bag. Set aside.
For Dressing: Add walnuts, walnut oil, garlic, salt and pepper to other ingredients in the food processor. Whirl until walnuts are finely chopped; set aside. Place dressing in bowl; cover with plastic and refrigerate.
For Chicken: Place chicken thighs in Ziploc bag with marinade; seal tightly and shake well. Refrigerate for at least 30 minutes and up to 24 hours.
Prepare coals for grill.
Remove chicken from marinade and season with salt and pepper, as desired.
When coals are hot, place chicken on grill and cook, turning often, for about 20 minutes.
Just before serving, toss the green beans with dressing. Arrange the beans on a platter and set cooked chicken on top.
Makes 4 servings.
Recipe provided courtesy of the National Chicken Council. Used with permission.