Grilled Chicken with Watermelon Salsa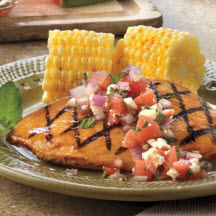 Nothing screams summer like grilled chicken and watermelon. This is fast food that's good for you! Keep your cool and take advantage of convenience foods like chicken breasts grilled and ready to heat and eat.
Recipe Ingredients:
4 frozen Tyson® Grilled & Ready™ Whole Breast Fillets
4 tablespoons (1/4 cup) hoisin sauce
2 cups chopped watermelon
1/2 cup chopped red onion
3 tablespoons chopped fresh mint
1/4 cup feta cheese
1 tablespoon seasoned rice vinegar
1 teaspoon olive oil
Cooking Directions:
Coat each chicken breast with Hoisin sauce and place in microwave safe dish. Follow microwave directions on Grilled & Ready packaging to heat.
In small bowl, mix together watermelon, red onion, mint, feta, seasoned rice vinegar and olive oil. Place salsa on top of chicken breast and serve.
Makes 4 servings.
Serving Suggestion: Serve with corn on the cob or quick couscous cooked in orange juice and tossed with green onions.
Recipe and photograph provided courtesy of Holly Clegg and Tyson Foods; through ECES, Inc., Electronic Color Editorial Services.