Grilled Honey Mustard Chicken Thighs
with Grape and Lime Salsa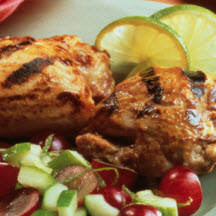 By the end of May, the days are lengthening and the temperatures are beginning to rise—ideal conditions for dining 'al fresco', Italian for 'in the fresh air'. To best enjoy the fresh air, try this light and simple chicken recipe to celebrate the end of cooler days and usher in the first months of summer.
Recipe Ingredients:
8 boneless chicken thighs, pounded thin (about 2 pounds)
1/2 cup prepared honey mustard
Salsa:
1 medium cucumber, peeled, seeded and chopped
2 cups red or green seedless grapes (or a combination of the two), cut in half
1/4 cup lime juice
1 teaspoon lime zest (optional)
2 tablespoons extra virgin olive oil
1/4 teaspoon salt, or to taste
Freshly ground black pepper to taste
Cooking Directions:
Prepare the grill. Chicken may be cooked on an oiled grilling pan. (The pan should be very hot before placing the chicken on it.)
Brush both sides of each thigh with some honey mustard and set them aside.
In a medium bowl, stir together the ingredients for the salsa and set it aside.
Grill or sauté the chicken until just firm. Serve the chicken immediately with some of the salsa spooned alongside.
Makes 4 servings.
Recipe provided courtesy of the National Chicken Council. Used with permission.