Moroccan Roasted Chicken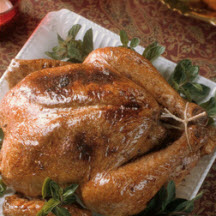 A feast of flavors! This spice-laden roasted chicken is accompanied with a sauce of reduced pomegranate juice, savory pan drippings and fresh mint.
Recipe Ingredients:
1 whole chicken, about 4 pounds
1/2 preserved lemon*
3 tablespoons olive oil
5 cloves garlic
1 teaspoon ground cumin
1 teaspoon ground ginger
1 teaspoon ground cinnamon
1/2 teaspoon ground allspice
1/4 teaspoon cayenne pepper
1 small onion, chopped roughly
1 carrot, peeled and chopped roughly
1 cinnamon stick
1 tablespoon granulated sugar
4 cups boiling water
1 (16-ounce) bottle pomegranate juice
1 tablespoon fresh mint, chopped
Cooking Directions:
Wash chicken and gently pull loose the skin. Set aside.
In food processor, combine preserved lemon, olive oil, garlic, cumin, ginger, cinnamon, allspice and cayenne pepper. Grind to smooth paste. Rub marinade under chicken skin and inside cavity. Place chicken in refrigerator and marinate at least 2 hours, or overnight.
Preheat oven to 500°F (260°C).
In large roasting pan, combine onion, carrot, cinnamon stick, sugar and boiling water. Place chicken in pan and cook in preheated oven 25 minutes. Reduce heat to 350°F (175°C) and turn chicken over; cook another 20 minutes. Turn chicken over again and cook 20 minutes; turn chicken final time and cook additional 20 minutes. Baste chicken with pan juices during each turn.
While chicken is cooking, place pomegranate juice in small saucepan and bring to boil over medium heat. Cook until reduced to about 1/4 cup.
Remove chicken to cutting board and let rest for 15 minutes. Place drippings from pan in medium saucepan; add reduced pomegranate juice and bring to a boil. Reduce heat and cook 15 minutes to thicken. Stir in mint.
Makes 6 servings.
*To make homemade preserved lemons, cut 4 large lemons into 8 wedges each. In mixing bowl, toss with 2/3 cup salt and 1 cup fresh lemon juice. Transfer to large glass jar and cover with tight-fitting lid. Let lemons stand at room temperature for one week, shaking jar each day. Add olive oil to cover lemons and store, covered and refrigerated, up to 6 months.
Recipe and photograph provided courtesy of the National Chicken Council. Used with permission.