Peruvian Grilled Chicken Thighs with
Tomato-Cilantro Sauce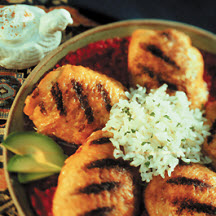 Grilled chicken thighs, seasoned with ground coriander and cayenne pepper, are served on a bed of rice topped with a tantalizing tomato-cilantro sauce and garnished with sliced avocado and a dollop of sour cream.
Recipe Ingredients:
Tomato-Cilantro Sauce:
2 ripe tomatoes, coarsely chopped
1 red onion, coarsely chopped
1 clove garlic, coarsely chopped
1 (7-ounce) jar roasted red peppers, drained
1/4 cup cilantro leaves
1/4 teaspoon salt
1/8 teaspoon ground black pepper
Chicken:
1 teaspoon ground coriander
1/4 teaspoon cayenne pepper
1/2 teaspoon salt
8 chicken thighs
2 cups uncooked long grain rice, cooked according to package directions, for accompaniment
1 ripe avocado, peeled, sliced for garnish (optional)
Sour cream for garnish for garnish (optional)
Cooking Directions:
For Tomato-Cilantro Sauce: In blender or food processor, place tomatoes, onion, garlic, roasted red peppers, cilantro leaves, salt and pepper; process until smooth.
For Chicken: In small bowl, mix together coriander, cayenne and salt; rub thighs with mixture.
On prepared grill, place chicken and cook, turning, about 12 minutes or until internal temperature of 160°F (70°C) is reached when tested with a thermometer.
To Serve: Spoon rice onto 4 individual plates, top with Tomato-Cilantro Sauce and arrange chicken on top. Garnish with avocado slices and dollops of sour cream, if desired.
Makes 4 servings.
Recipe and photograph provided courtesy of the National Chicken Council. Used with permission.