Roasted Chicken with Apple Stuffing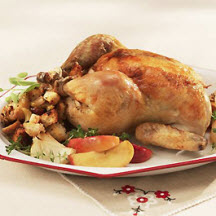 Recipe courtesy of Michigan Apple Committee.
Recipe Ingredients:
1 whole (3 to 4-pound) chicken, trimmed of excess fat
Garlic Butter Rub:
2 cloves garlic, minced
2 tablespoons butter or margarine, softened
1/2 teaspoon lemon juice
Salt and freshly ground pepper to taste
Apple Stuffing:
2 cups firm white bread, cubed
1/2 to 3/4 cup chicken broth
1 large tart Michigan apple, peeled and chopped
1/4 cup dried cherries
1/2 teaspoon dried thyme
1/2 teaspoon dried sage
Salt and ground black pepper to taste
3 tablespoons butter
1/2 cup minced onion
1/2 cup sliced celery
1/2 cup dry white wine
1 large tart Michigan apple, cored and cut into wedges
1 large sweet onion, cut into wedges
Cooking Directions:
Preheat oven to 400°F (205°C).
Rinse chicken with cold water and pat dry with paper towels inside and out. Place in roasting pan.
In small bowl, combine garlic, butter, lemon juice, salt and pepper.
Loosen skin of chicken wherever possible, and spread half of the butter/garlic mixture under skin. Sprinkle additional salt and pepper over skin. Put remaining butter in roasting pan.
Place bread cubes in mixing bowl. Toss with apples, cherries, thyme, sage, salt and pepper. Moisten with chicken broth.
Melt butter in large skillet; add onion and celery and sauté until softened, 3 to 4 minutes. Add to stuffing and toss. Stuff chicken loosely with mixture. Tie legs together and roast 40 minutes.
Add white wine, to deglaze the pan along with apples and onions to pan and continue roasting about 40 minutes, until thermometer inserted into thickest part of thigh registers 160°F (71.1°C) to 165°F (73.8°C). Remove bird to platter and let rest 5 minutes before carving.
Makes 4 servings.
Note: Drippings from pan may be used as an excellent base for gravy.
Nutritional Information Per Serving (1/4 of recipe): Calories: 277; Total Fat: 16g; Saturated Fat: 6g; Cholesterol: 74mg; Total Carbs: 11g; Fiber: 1g; Protein: 22g; Sodium: 412mg.
Recipe and photograph courtesy of Michigan Apple Committee.