Secret BBQ Sauce Chicken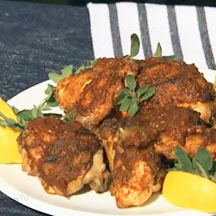 If you love to cook out, you are sure to be serving lots of chicken during the summertime and cutting up a whole bird will save you money!
Recipe Ingredients:
Secret BBQ Sauce:
1 tablespoon extra virgin olive oil
2 tablespoons ginger, peeled and chopped
1 large onion, chopped
3 tablespoons chili powder
3 garlic cloves, minced
1 (8-ounce) can crushed pineapple with its juice
1 (28-ounce) can tomatoes with their puree
1/3 cup ketchup
1/4 cup cider vinegar
3 tablespoons dark brown sugar
3 tablespoons light molasses
2 teaspoons dry mustard
1 teaspoon salt
1 whole chicken, cut-up
Cooking Directions:
For Secret BBQ Sauce: Heat the olive oil over medium heat in a 5 to 6 quart stockpot until hot. Add the ginger and onion and cook until the onion is golden and tender, about 10 minutes. Add the chili powder and cook, stirring, for about 1 minute. Add the garlic and pineapple and cook for 1 minute longer.
Remove from the heat and stir in the crushed tomatoes, ketchup, cider vinegar, brown sugar, molasses, dry mustard, and salt. Puree the sauce with a KitchenAid immersion blender until smooth.
Return the saucepot to the heat and bring to a boil over high. Reduce the heat to medium-low and cook, stirring occasionally, until the sauce reduces to about 5 cups, about 25 minutes. Store any unused sauce in a covered container in refrigerator.
For Chicken: Place the chicken breast side up and remove the legs, cutting between the thigh and body. Bend the thigh back and twist to break the hip joint and cut through the joint.
To separate the drumstick from the thigh, place the skin side down and cut through the joint.
To remove the wing pull away from the body and cut between the joint and breast. Then remove the wing tips, these can be frozen and used in a chicken stock.
Using kitchen shears cut the rib cage along one side from the tail end to the neck and then repeat on the other side and remove the backbone in one piece.
With the skin side down press the knife on the breast to remove and then trim away any fat.
Preheat the grill to medium heat.
Place the chicken on the grill and cook for about 20 minutes, turing once.
Generously brush the chicken with our recipe for BBQ sauce and continue cooking for about 20 to 25 minutes.
Makes 4 servings.
Recipe provided courtesy of SummerKitchen.tv. Photograph property of CooksRecipes.com.