Superior Crispy Fried Chicken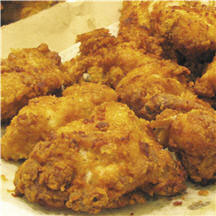 Brining the chicken keeps it moist and tender on the inside throughout the frying process.
Recipe Ingredients:
3 tablespoons granulated sugar
1/4 cup kosher salt
8 cups cold water
1 whole fryer chicken, cut into serving pieces
1 3/4 cups all-purpose flour
2 teaspoons dried thyme
1/4 teaspoon garlic powder
1 teaspoon kosher or sea salt
1/2 teaspoon freshly ground black pepper
2 large eggs
1/2 cup buttermilk
Peanut or vegetable oil for frying
Cooking Directions:
In a large bowl or pot, dissolve the sugar and 1/4 cup salt in water. Add cut-up chicken; cover and refrigerate for 2 hours. Remove chicken pieces, and rinse under cool water, lay out on paper towels.
Mix together the flour and seasonings, and place in a large zip lock-style plastic bag. Shake to mix.
In a medium bowl, whisk the eggs, then whisk in the buttermilk.
Dip half the chicken pieces in the buttermilk, then place in the plastic bag. Shake, and lay out on a wire rack. Repeat for remaining pieces. Put the rack on a large baking sheet and place in the refrigerator for 1 to 2 hours to set.
Pour peanut oil to a depth of 3/4 inch in a large iron Dutch oven. Place over medium-high heat. When oil is heated, arrange chicken pieces in the pan, skin side down, and cover pan. After 5 minutes, remove the cover. Rearrange pieces if some are browning more quickly than others. After 5 more minutes, turn the pieces over. Cook uncovered for 8 to 10 more minutes or until done.
Remove the fried chicken to a clean wire rack set over a large paper bag or paper towels and allow to drain.
Makes 4 servings.
Recipe and photograph by Hope Cantil; copyright © 1999; property of CooksRecipes.com. See Terms of Use.