Tex-Mex Chicken 'n' Rice Casserole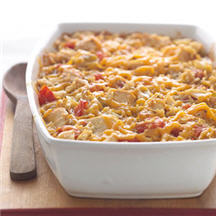 Try this tasty Tex-Mex casserole on your family, it's sure to be requested again and again. Green chile peppers and chili powder give this savory chicken main dish a classic Tex-Mex bite. Make it up to 24 hours ahead of time for dinner in a hurry.
Recipe Ingredients:
1 cup chopped onion
2 tablespoons butter, margarine or olive oil
1 (6.6-ounce) package regular chicken-flavored rice-vermicelli mix
1 cup long grain rice
2 (14-ounce) cans chicken broth
2 1/2 cups water
4 cups chopped cooked chicken or turkey
4 medium tomatoes, chopped
1 (4-ounce) can diced green chile peppers
2 tablespoons snipped fresh basil or 2 teaspoons dried basil, crushed
1 tablespoon chili powder
1 teaspoon cumin seed, crushed, or 1/4 teaspoon ground cumin
1/8 to 1/4 teaspoon ground black pepper
1 1/2 cups shredded cheddar cheese
Cooking Directions:
In a 3-quart saucepan cook onion in hot margarine, butter, or oil until tender. Stir in rice-vermicelli mix, including seasoning package, and uncooked rice. Cook and stir for 2 minutes more. Stir in broth and water. Bring to boiling; reduce heat. Cover and simmer 20 minutes (liquid will not be fully absorbed).
Transfer the mixture to a very large mixing bowl; stir in chicken or turkey, tomato, chile peppers, basil, chili powder, cumin, and pepper. Transfer to a 3-quart casserole.
Bake, covered, in a preheated 425°F (220°C) oven for 20 minutes. Uncover; sprinkle with cheese. Bake for 5 minutes more.
Makes 8 servings.
Make ahead tip: Prepare casserole; cover and chill up to 24 hours. Bake, covered, in 425°F (220°C) oven for 30 minutes. Uncover and sprinkle with cheese. Bake for 5 minutes more.
Recipe and photograph provided by Better Homes and Gardens - BHG.com a member of the Home and Family Network for the best of cooking, gardening, decorating and more. © 2003 Meredith Corporation. All Rights Reserved.