Tortilla Crusted Chicken Paillard with Sacaton Relish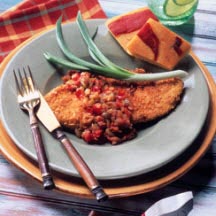 Chicken cutlets encrusted with crushed tortilla chips, pan-fried and served with a tomato, onion and green chile relish with bits of crisp crumbled bacon.
Recipe Ingredients:
Relish:
3 strips bacon, diced
1 medium onion, chopped
2 medium tomatoes, chopped
1 (4.5-ounce) can diced green chiles
1/4 teaspoon kosher or sea salt
1/4 teaspoon freshly ground black pepper
Chicken:
4 skinless, boneless chicken breasts
Kosher or sea salt and freshly ground black pepper to taste
1/4 cup all-purpose flour
1 cup tortilla chip crumbs
1 egg white, beaten with 1 tablespoon water
2 teaspoons vegetable oil
Cooking Directions:
In medium saucepan, sauté bacon over medium-low heat until just crisp. Add onion; cook until light browned, about 7 minutes.
Stir in tomatoes and green chiles; cook for 3 minutes more. Sprinkle salt and pepper into dish; stir. Remove from heat, cover and set aside.
Between two sheets of plastic wrap, place chicken breasts. Pound with meat hammer to 1/4 inch thickness. Season to taste with salt and pepper
Place flour in pie plate or other flat dish.
Place egg white in shallow bowl.
Place tortilla chip crumbs in third bowl.
Dip each chicken breast first into flour, patting off excess, then into egg. Finish by coating with crumbs.
In large, non-stick skillet, warm oil over high heat. Add chicken and brown each side, turning after about 3 minutes. Reduce heat to medium-low; continue to cook chicken until firm, about 5 more minutes on each side.
To serve, place chicken on platter. Warm relish and spoon on top of chicken.
Makes 4 servings.
Recipe and photograph provided courtesy of the National Chicken Council. Used with permission.