Vietnamese Stir-Fried Chicken with Nuts and California Raisins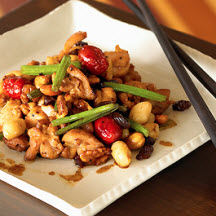 Recipe courtesy of California Raisin Marketing Board.
Recipe Ingredients:
Stir-Fry Sauce:
1 cup chicken stock
3/4 cup fish sauce
3/4 cup granulated sugar
Stir-Fry:
2 whole boneless, skinless chicken breast
Canola oil or peanut oil
Salt, to taste
1/2 cup Chinese dates
1/2 cup California raisins
1/2 cup cashews
1/2 cup walnuts
1/2 cup ginkgo nuts
2 tablespoons rice wine
Cooking Directions:
For Stir-fry Sauce: Mix chicken stock, fish sauce and sugar together. Cover and store in refrigerator. (Sauce can be made up to 1 month in advance.)
For Stir-fry: Have all ingredients ready. Cut chicken into 3/4-inch cubes. Rub with 1 tablespoon oil to coat meat and salt to taste; set aside.
Soak dates and raisins in warm water for 10 minutes; drain.
Boil fresh ginkgo nuts in water until tender; then peel off the outer skin or purchase already peeled.
Heat a couple tablespoons of oil in pan or wok. Add walnuts and cashews; fry until golden brown. (If the walnuts taste bitter, make a new batch. You probably overcooked them). Set aside.
Add 2 tablespoons oil to preheated wok. Heat to smoking. Add chicken cubes. Sauté until lightly browned. Drain off any excess oil. Add dates, raisins and nuts. Stir in rice wine and 3 tablespoons stir-fry sauce. (You will have extra stir-fry sauce. Keep it refrigerated for future use). Cook until heated through. Serve over steamed rice.
Makes 4 servings.
Nutritional Information Per Serving (1/4 of recipe): Calories: 650; Total Fat: 18g; Saturated Fat: 3g; Cholesterol: 70mg; Total Carbs: 88g; Fiber: 6g; Protein: 38g; Sodium: 4380mg.
Recipe and photograph courtesy of California Raisin Marketing Board.