Beehive Cookies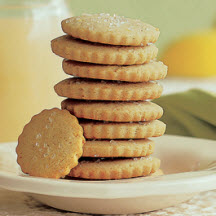 Recipe courtesy of the National Honey Board.
Recipe Ingredients:
3 cups all-purpose flour
1 teaspoon ground cinnamon
1/2 teaspoon baking soda
1/2 teaspoon salt
3/4 cup (6 ounces) butter, lightly chilled, cut in bits
1/2 cup light brown sugar, packed
1/2 cup whipped honey or crème
1 tablespoon (about 2 lemons) lemon zest
1 large egg
Coarse sugar, as needed (optional)
Cooking Directions:
Preheat oven to 350°F (175°C).
Thoroughly mix dry ingredients; reserve.
Cream butter, brown sugar, honey and lemon zest until smooth; beat in egg. Add dry ingredients in thirds, mixing well with each addition.
Scrape dough onto plastic wrap; shape it into a log about 12-inch long. Chill an hour or so until firm, or up to 24 hours.
Cut log into 1/4-inch slices; place 1-inch apart on a parchment-lined baking sheet. Sprinkle with coarse sugar, if desired, lightly pressing sugar into dough.
Bake until edges are lightly browned, about 10 minutes.
Cool 5 minutes on baking sheet, then transfer to a rack. Cool completely.
Makes 48 cookies.
Note: Honey should not be fed to infants under one year of age. Honey is a safe and wholesome food for children and adults.
Recipe and photograph courtesy of the National Honey Board.