Chocolate Chip Yummies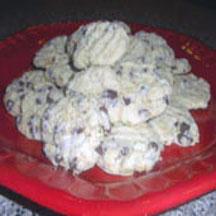 This yummy cookie recipe was submitted to CooksRecipes.com in 1999 by Heneliz. If you like the tender crispness of shortbread, you will love these flavorful cookies, especially if you have a weakness for chocolate and coconut. Photograph courtesy of Heneliz.
Recipe Ingredients:
2 cups softened butter (1 pound)
2 cups confectioner's (powdered) sugar
4 teaspoons vanilla extract
3 cups all-purpose flour
1 teaspoon baking soda
2 cups quick-cooking oats
1 (12-ounce) package semisweet chocolate morsels
1/2 cup sweetened flaked coconut (optional)
Cooking Directions:
Cream the butter and confectioners sugar and add the vanilla. Stir in the flour and baking soda, mixing well. Stir in the quick oats, chocolate chips and coconut, if using, and mix until just combined.
Form into small balls and press down with a fork.
Bake in a preheated oven at 325°F (160°C) for 12 to 15 minutes. Enjoy!
Makes 10 dozen cookies.