Chocolate Palmiers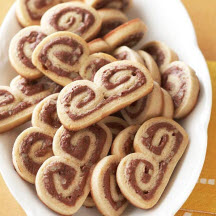 With their double-pinwheel shape, these cocoa-filled cookies look impressively difficult to make. Actually, the rolling is simple, but that's your secret!
Recipe Ingredients:
1 (8-ounce) package cream cheese, softened
1/2 cup sifted powdered sugar
1/4 cup unsweetened cocoa powder
2 tablespoons all-purpose flour
2 tablespoons coffee liqueur or hazelnut liqueur
1/2 cup finely chopped pecans or hazelnuts, toasted (optional)
1/2 cup butter, softened
1/2 cup granulated sugar
1/2 cup brown sugar, firmly packed
1/2 teaspoon baking powder
1/2 teaspoon ground cinnamon
1/4 teaspoon salt
1 large egg
3 tablespoons milk
1/2 teaspoon vanilla extract
2 3/4 cups all-purpose flour
Cooking Directions:
For Filling: In a medium bowl beat cream cheese, powdered sugar, cocoa powder, the 2 tablespoons flour, and the liqueur with an electric mixer on low to medium speed until smooth. If desired, stir in nuts. Cover; set aside.
For Dough: In a large bowl beat butter with an electric mixer on medium to high speed for 30 seconds. Add granulated sugar, brown sugar, baking powder, cinnamon, and salt. Beat until combined, scraping bowl occasionally. Beat in egg, milk, and vanilla until combined. Beat in as much of the 2-3/4 cups flour as you can with the mixer. Using a wooden spoon, stir in any remaining flour. Divide dough in half. If necessary, cover and chill about 30 minutes or until dough is easy to handle.
On a lightly floured surface, roll dough, one portion at a time, into a 12x8-inch rectangle. Spread each rectangle with half of the filling, spreading to within 1/2 inch of the long edges. For each rectangle, roll up the two long edges to meet in the center. Brush the seam where the dough spirals meet with water and lightly press together.
Wrap each roll in waxed paper or plastic wrap. Place on a tray or cookie sheet. Chill for 4 to 24 hours.
Preheat oven to 375°F (190°C). Grease cookie sheets; set aside. Using a thin-blade knife, cut rolls into 1/4-inch slices. Place slices, cut sides down, 2 inches apart on the prepared cookie sheets. Bake about 8 minutes or until edges are firm and bottoms are lightly browned. Transfer to wire racks; cool.
Makes about 72 cookies.

To Store: Layer cookies between sheets of waxed paper in an airtight container; cover. Store in the refrigerator for up to 3 days.
Nutritional Information Per Serving (1/72 of recipe): 63 kcal cal., 3g fat (2g sat. fat, 1g monounsatured fat), 9mg chol., 34mg sodium, 8g carb., 4g sugar, 1g protein.
Recipe and photograph provided by Better Homes and Gardens - BHG.com a member of the Home and Family Network for the best of cooking, gardening, decorating and more. © Meredith Corporation. All Rights Reserved.