Cranberry Cappuccino Biscotti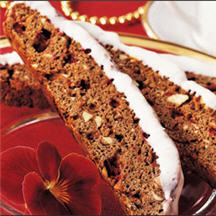 The perfect companion for your morning coffee is this cinnamon-scented, coffee-flavored biscotti with fresh cranberries and crunchy almonds.
Recipe Ingredients:
2 1/3 cups all-purpose flour
1 cup granulated sugar
3 tablespoons cocoa powder
2 tablespoons instant coffee granules
1 1/2 teaspoons baking powder
1 teaspoon ground cinnamon
1/2 teaspoon salt
2 large eggs
2 large egg whites
1 tablespoon vanilla extract
1 1/2 cups Ocean Spray® Fresh or Frozen Cranberries, coarsely chopped
3/4 cup whole almonds, coarsely chopped
Cooking Directions:
Preheat oven to 325ºF (160ºC).
Combine dry ingredients in a medium mixing bowl. Combine eggs, egg whites and vanilla in a separate mixing bowl. Add to dry ingredients, mixing just until moist, using an electric mixer on medium speed. Add cranberries and nuts; mix thoroughly.
On a floured surface, divide dough in half and pat each half into a log about 14-inches long and 1 1/2-inches wide. Place on cookie sheet and bake for 30 minutes or until firm. Cool on a wire rack.
Reduce oven temperature to 300ºF (150ºC).
Cut biscotti into 1/2-inch slices. Stand upright on cookie sheet. Bake for an additional 30 minutes. Let cool and store in a loosely covered container.
Makes 2 1/2 dozen biscotti.
Recipe and photograph provided courtesy of Ocean Spray Cranberries, Inc.