Crisp Vanilla Butter Cookies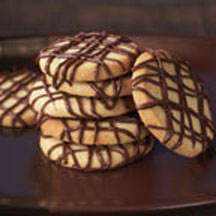 For a delightful variation on this recipe, add 1/2 teaspoon of any pure flavor extract, such as chocolate, almond, lemon, orange or coffee, to the cookie dough to create a signature cookie.
Recipe Ingredients:
1 cup (2 sticks) butter, softened
1 cup sifted confectioners' (powdered) sugar
1 tablespoon Nielsen-Massey Madagascar Bourbon Pure Vanilla Powder
2 large eggs, lightly beaten
2 cups unbleached all-purpose flour
1 teaspoon baking powder
1/4 teaspoon ground cinnamon
1/4 teaspoon salt
1/2 cup chocolate pieces of choice
Cooking Directions:
Cream the butter, confectioners' sugar and vanilla powder in a mixing bowl using an electric mixer on medium speed. Add the eggs and beat until light and fluffy. Beat in the flour, baking powder, cinnamon and salt on low speed until just blended. Place the dough on parchment paper and shape into a 12-inch long log. Chill between 3 to 24 hours.
Preheat the oven to 350°F (175°C). Coat an insulated cookie sheet with nonstick cooking spray. Cut the dough log into 1/4-inch-thick slices and place on the cookie sheet. Bake for 10 to 12 minutes or until golden brown. Cool on a wire rack. Place the cooled cookies on a parchment-lined cookie sheet.
Place the chocolate pieces in a microwave-safe bowl. Heat on "high" for 15 seconds. Repeat at five-second intervals, stirring and checking the consistency. The chocolate is ready when it freely drips from the spoon in a fine line. Spoon the chocolate into a large plastic food storage bag. Twist the bag until the chocolate is in one corner and then trim the tip of the bag. Drizzle the chocolate over the cookies.
Makes 2 dozen cookies.
Recipe and photograph provided courtesy of Nielsen-Massey; through ARA Content.