Fudgies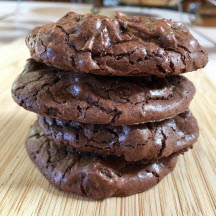 If you love chocolate brownies, then you must try these chewy, double the chocolate, double the yum cookies. This recipe is a keeper.
Recipe Ingredients:
2 tablespoons butter
2 (1-ounce) squares unsweetened chocolate
1 (12-ounce) package or 2 cups semisweet chocolate chips - divided use
2/3 cup granulated sugar
1 teaspoon vanilla extract
2 large eggs, beaten
1/4 cup all-purpose flour
1/4 teaspoon baking powder
Pinch of sea or kosher salt
1 cup chopped pecans or walnuts (optional)
Cooking Directions:
Preheat oven to 350°F (175°C).
In a medium saucepan melt the butter over medium-low heat; add the unsweetened chocolate squares, stirring until melted, then add 1 cup of the chocolate chips, continuing to stir until melted. Remove from heat.
Add the sugar and vanilla to the chocolate mixture, stirring until well combined.
Add the beaten eggs, flour, baking powder and salt. Beat until well combined, scraping sides of pan occasionally. Stir in the remaining chocolate morsels, and if using, the nuts.
Drop dough by rounded teaspoonfuls about 2-inches apart onto well-greased baking sheet.
Bake in preheated oven for 10 to 12 minutes or until edges are firm and surfaces are dull and slightly cracked.
Allow cookies to cool slightly on the baking sheet before transfering to wire racks to cool completely.
Makes 3 dozen cookies.
Nutritional Information Per Serving (1/36 of recipe): 102.0 calories; 53% calories from fat; 6.7g total fat; 13.4mg cholesterol; 13.3mg sodium; 32.3mg potassium; 11.3g carbohydrates; 1.1g fiber; 3.9g sugar; 10.3g net carbs; 1.5g protein.
Recipe and photograph by Hope Cantil; copyright © 1999; properties of CooksRecipes.com. See Terms of Use.