Gluten-Free Refrigerator Cookies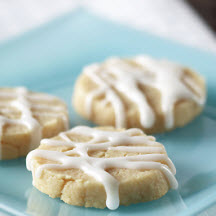 Recipe courtesy of The Soyfoods Council.
Recipe Ingredients:
1/3 cup granulated sugar
3 tablespoons soy oil
1/2 teaspoon lemon or almond extract
1 cup soy flour
2 teaspoons baking powder
1/4 teaspoons salt
1/4 cup water
Optional Lemon Glaze:
1 cup sifted powdered sugar
1 to 2 tablespoons lemon juice
Cooking Directions:
In large mixing bowl, stir together sugar, oil and extract. Sift soy flour, baking powder and salt into the oil mixture. Add water and knead to form a dough. Form dough into a log about 6-inch long, wrap in plastic wrap and refrigerate for at least 2 hours.
Preheat oven to 325°F (160°C).
Unwrap log and cut dough into 1/4-inch thick slices and bake on greased baking sheet for 15 minutes.

Cool on rack.
Frost cookies with Lemon Glaze, if desired.
For Lemon Glaze: Mix the powdered sugar and enough lemon juice to make glaze.
Makes 12 cookies.
Recipe and photograph courtesy of The Soyfoods Council.