Key Lime Clove Meltaways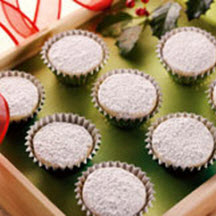 These zesty Key lime-flavored butter cookies—with a big kiss of clove—will simply melt in you mouth.
Recipe Ingredients:
3/4 cup (1 1/2 sticks) butter, softened
1 cup powdered sugar - divided use
1 1/2 tablespoons lime zest, freshly grated (from about 4 Key or 2 regular limes)*
2 tablespoons Key lime juice
1 tablespoon pure vanilla extract
1 3/4 cups, plus 2 tablespoons all-purpose flour
3/4 teaspoon ground cloves
2 tablespoons cornstarch
1/4 teaspoon salt
Cooking Directions:
In a mixing bowl, combine butter and 1/3 cup of powdered sugar until light and fluffy. Add lime zest, lime juice and vanilla; beat until incorporated.
In a separate bowl, whisk together flour, ground cloves, cornstarch and salt. Add dry ingredients to the butter mixture, and mix until well combined. Divide dough in half and place each on a piece of wax paper. Shape into two 1-inch logs, using the paper to shape and seal the logs. Chill at least 1 hour or overnight.
Preheat oven to 350°F (175°C).
Remove one log from refrigerator at a time, remove paper, and slice dough into 1/8-inch-thick rounds. Place 1 inch apart on cool, parchment-lined baking sheets. Bake until bottoms are barely golden, about 15 minutes.
Transfer cookies to a cooling rack to cool slightly, 4 to 5 minutes.
Measure 2/3 cup powdered sugar into a resealable, gallon-size plastic bag. While the cookies are still warm, carefully place a few at a time in the bag, gently toss to coat, and place on rack to cool completely. Coat again before serving as necessary.
Store cookies in an airtight container for up to two weeks.
Makes 4 dozen cookies.
*Zest using the smallest side of a box grater or cheese grater or a micro plane.
Tip: Any lime may be substituted for Key limes if they are not available in your area.
Recipe and photograph provided courtesy of Wisconsin Milk Marketing Board, Inc.