No Bake Chocolate Cookies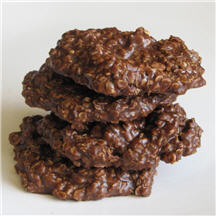 These quick-fix, no-bake cookies are at their absolute best when served warm along with a glass of cold milk. Perfect for satisfying that sudden urge for something sweet and chocolaty. Whip up a batch and watch them disappear!
Recipe Ingredients:
1/2 cup butter or margarine
2 (1-ounce) squares unsweetened baking chocolate*
2 cups granulated sugar
Pinch kosher or sea salt
1/2 cup milk
2 tablespoons peanut butter
1 teaspoon vanilla extract
3 cups quick-cooking oats
Cooking Directions:
Have all ingredients pre-measured and ready. Line a baking sheet with plastic wrap or aluminum foil; set aside.
In a large heavy saucepan melt the butter and chocolate over medium heat, stirring constantly. Add the sugar, salt and milk and continue stirring until mixture comes to a full rolling boil. Without stirring, let mixture boil for exactly 3 minutes, no more - no less. Immediately remove from heat.
Add peanut butter and stir until melted; stir in vanilla and oats, mixing well.
Working fast, drop cookie mixture by spoonfuls** onto prepared baking sheet. Cool at room temperature until firm. (These cookies freeze well.)
Makes 2 dozen cookies.
*Or substitute chocolate squares with 6 tablespoons baking cocoa and increase the butter to 1/2 cup plus 2 tablespoons. Combine the sugar, salt and baking cocoa in the saucepan first, slowly add the milk while stirring until all ingredients are moistened; add the butter and continue as directed above. (This is my preferred method since I always have baking cocoa on hand...and it's more economical.)
**Spray a metal spoon with cooking spray and the cookie mixture will easily slide off the spoon.
Tips:
Timing is essential when cooking saucepan cookies. Over-cooking will result in extremely dry cookies, sometimes so crumbly the mixture will not hold together enough to form a cookie. If this occurs after the oats have been added, then stir in 1 tablespoon of milk at a time until mixture is moist enough to work with. Under-cooking will result in cookies that will not setup properly.

Change up the flavor and add a little ground cinnamon to the mix, about 1/4 teaspoon, more or less.
Nutritional Information Per Serving (1/24 of recipe): 204.5 calories; 31% calories from fat; 7.5g total fat; 11.8mg cholesterol; 42.7mg sodium; 143.9mg potassium; 31.5g carbohydrates; 2.5g fiber; 17.8g sugar; 29.0g net carbs; 4.6g protein.
Recipe and photograph by Hope Cantil; copyright © 1999; property of CooksRecipes.com. See Terms of Use.