No-Bake Lemon Drop Cookies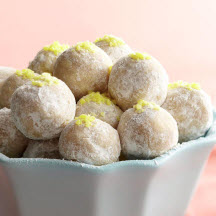 These simple no-bake cookies, made with finely chopped toasted almonds, crushed lemon drop candies and shortbread, are sure to become a favorite cookie, especially for the holidays. Lightly roll them in powdered sugar and top with lemon zest for an extra-festive presentation.
Recipe Ingredients:
2 cups finely crushed shortbread cookies (about 7 ounces)
1 cup powdered sugar
1/2 cup almonds, toasted and finely chopped
1/2 cup finely crushed lemon drop candies*
2 tablespoons light-colored corn syrup
2 tablespoons milk
2 tablespoons butter, melted
1/3 cup powdered sugar
1 tablespoon finely crushed lemon drop candies
Cooking Directions:
In a large bowl, stir together the crushed cookies, the 1 cup powdered sugar, the almonds, and the 1/2 cup crushed candies. In a small bowl, stir together corn syrup, milk, and melted butter. Stir the corn syrup mixture into the cookie mixture until well combined.
Shape cookie mixture into 1-inch balls. In a small bowl, combine the 1/3 cup powdered sugar and the 1 tablespoon crushed candies. Roll balls in powdered sugar mixture. Place on a large baking sheet or tray.
Cover and chill for at least 2 hours before serving.
Roll balls again in powdered sugar mixture just before serving.
Makes about 36 cookies.
*Place lemon drops in a heavy resealable plastic bag. Use a meat mallet or a rolling pin to coarsely crush the lemon drops. Transfer coarsely crushed lemon drops to a food processor. Cover and process until finely crushed.
To Store: Place cookies in a single layer in an airtight container; cover. Store in the refrigerator for up to 3 days or freeze up to 3 months.
Recipe and photograph provided by Better Homes and Gardens - BHG.com a member of the Home and Family Network for the best of cooking, gardening, decorating and more. © Meredith Corporation. All Rights Reserved.