Oatmeal Cranberry White Chocolate Chunk Cookies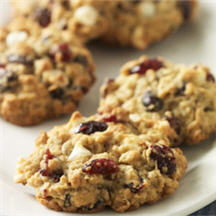 Festive oatmeal cookies loaded with sweet-tart dried cranberries and chunks of white chocolate.
Recipe Ingredients:
2/3 cup butter or margarine, softened
2/3 cup packed brown sugar
2 large eggs
1 1/2 cups old-fashioned oats
1 1/2 cups all-purpose flour
1 teaspoon baking soda
1/2 teaspoon salt
1 (6-ounce) package Ocean Spray® Craisins® Original Sweetened Dried Cranberries
2/3 cup white chocolate chunks or chips
Cooking Directions:
Preheat oven to 375ºF (190ºC).
Using an electric mixer, beat butter or margarine and sugar together in a medium mixing bowl until light and fluffy. Add eggs, mixing well. Combine oats, flour, baking soda and salt in a separate mixing bowl. Add to butter mixture in several additions, mixing well after each addition. Stir in sweetened dried cranberries and white chocolate chunks.
Drop by rounded teaspoonfuls onto ungreased cookie sheets. Bake for 10 to 12 minutes or until golden brown. Cool on wire rack.
Makes 2 1/2 dozen or 30 cookies.
Nutritional Information Per Serving (1/30 of recipe): Cal 135 (6%DV), Fat Cal. 54, Pro. 2g (4%DV), Carb. 18g (6%DV), Fat 6g (9%DV), Chol. 15mg (4%DV), Sod. 138mg (5%DV), Vit. A 47RE (4%DV), Vit. C 0mg (0%DV), Vit. E 1mg (2%DV), Calcium 16mg (1%DV), Iron 1mg (3%DV), Folate 5Ug (1%DV), Zinc <1mg (1%DV), Pot. 54mg (1%DV), Dietary Exchange: Other Carbohydrate 1, Fat 1.5.
Recipe and photograph provided courtesy of Ocean Spray Cranberries, Inc.