Outrageous Soynut Butter Chocolate Chip Cookies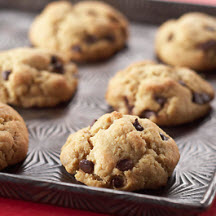 Recipe courtesy of The Soyfoods Council.
Recipe Ingredients:
1 cup butter
1 cup granulated sugar
2/3 cup brown sugar, packed
1 cup soynut butter
1 teaspoon vanilla extract
2 large eggs
1/2 cup soy flour
1 1/2 cups all-purpose flour
1 teaspoon baking soda
1/2 teaspoon salt
1 cup rolled (old-fashioned) oats
2 cups semisweet chocolate chips
1/4 cup chopped soynuts
Cooking Directions:
Preheat oven to 350°F (175°C). Lightly grease two cookie sheets.
In a medium bowl, cream together the butter, sugar and brown sugar until smooth. Add soynut butter, vanilla extract and eggs, stir until well blended.
In a small bowl, add soy flour, flour, baking soda, and salt; blend together. Add dry ingredients into the butter mixture, stir until dry ingredients are just moistened.
Add remaining ingredients, mix until blended. Drop dough by tablespoons on cookie sheets.
Bake for 10 minutes or until the edges start to brown. Remove from cookie sheet, cool.
Makes 36 cookies.
Recipe and photograph courtesy of The Soyfoods Council.