Pistachio Macaroon Meringues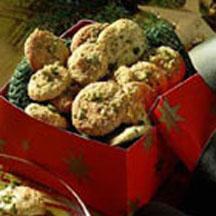 These are not your ordinary meringue cookies. Indeed, they are a real taste treat that will leave you wanting more.
Recipe Ingredients:
2 1/4 cups ground California pistachios
1 cup granulated sugar
2 teaspoons almond extract
4 large egg whites
1/2 teaspoon salt
Baking parchment paper
1/4 cup chopped California pistachios
1/4 cup powdered sugar (optional)
Cooking Directions:
Mix ground pistachios with 3/4 cup sugar and almond extract.
In a separate bowl, whip egg whites until stiff, then gradually beat in salt and the remaining 1/4 cup sugar. Fold in the pistachio-sugar mixture with a wire whip.
Line cookie sheets with baking parchment.
Spoon batter into pastry bag fitted with a 1/2-inch plain, round tip then press walnut-sized portions 1-inch apart onto parchment. If you don't have a pastry bag, just portion out heaping spoonfuls of batter. Sprinkle lightly with chopped pistachios.
Let cookies air dry on pans for 2 hours then bake at 300°F (150°C) for 30 minutes. Cookies should get lightly browned on bases, with the tops dry but the centers still chewy. Partially cool, then release cookies from parchment. Sift powdered sugar over if desired.
Makes 3 1/2 dozen cookies.
Tip: Pulse pistachios in a food processor until coarsely ground.
Recipe and photograph provided courtesy of the California Pistachio Commission.