Springtime Slice-and-Bake Confetti Cookies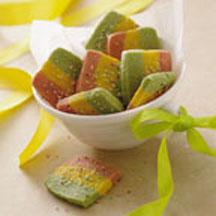 Get your spring baking season started off right with these delightfully pretty ribbon cookies!
Recipe Ingredients:
1 1/4 cups granulated sugar
1/2 cup butter or margarine, softened
1/2 cup butter-flavored shortening
1 large egg
2 tablespoons milk
2 teaspoons vanilla extract
3 1/4 cups Gold Medal all-purpose flour
1/2 teaspoon baking soda
1/8 teaspoon salt
10 drops red food coloring
16 drops yellow food coloring
9 drops green food coloring
3 tablespoons pastel-colored confetti candy sprinkles
Cooking Directions:
Preheat oven to 375°F (190°C). Line bottom of a loaf pan, 9x5x3-inches, with plastic wrap.
Beat sugar, butter and shortening in a large bowl with an electric mixer on medium speed or mix with a spoon. Stir in egg, milk and vanilla. Stir in flour, baking soda and salt.
Divide dough into thirds.
Knead one food coloring into each dough.
Press one of the colored doughs in the bottom of the pan. Top with remaining colored doughs, pressing each layer firmly to seal. Turn the pan upside down and remove the plastic wrap from the dough. Cut dough lengthwise into thirds. Cut each third crosswise into 16 slices.
Place about two inches apart on an ungreased cookie sheet. Sprinkle with candy sprinkles.
Bake 9 to 11 minutes or until bottoms are a light golden brown. Cool for one minute, remove from cookie sheet and place on a wire rack.
Makes 4 dozen cookies.
Recipe and photograph provided courtesy of www.GoldMedalFlour.com; through ARAcontent.