Tangerine Butter Cookies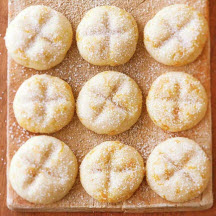 Brightly colored tangerine zest makes these cookies stand out from the rest. Cornmeal gives them a slightly crunchy but tender texture. They freeze and pack well, so they're ideal for making ahead or gift-giving.
Recipe Ingredients:
3/4 cup butter, softened
1 1/2 cups granulated sugar
1 1/2 teaspoons baking soda
1 1/2 teaspoons cream of tartar
1 teaspoon salt
2 large eggs
2 teaspoons finely shredded tangerine peel or orange peel
1 teaspoon vanilla extract
1 teaspoon orange extract
3/4 cup olive or vegetable oil
1/2 cup white cornmeal
4 cups all-purpose flour
1/2 cup granulated sugar
Cooking Directions:
In a very large bowl, beat butter with an electric mixer on medium to high speed for 30 seconds. Add the 1 1/2 cups sugar, the baking soda, cream of tartar, and salt. Beat until light and fluffy, scraping side of bowl occasionally. Beat in eggs, tangerine peel, vanilla, and orange extract until combined. Gradually beat in oil until smooth. Beat in cornmeal. Beat in as much of the flour as you can with the mixer. Stir in any remaining flour. If necessary, cover and chill for 30 to 60 minutes or until dough is easy to handle.
Preheat oven to 350°F (175°C). Place the 1/2 cup sugar in a small bowl. Shape dough into 1-inch balls; roll balls in sugar to coat. Place balls 2 inches apart on an ungreased cookie sheet. Using a wooden skewer or toothpick, press an "X" into each ball of dough.
Bake in the preheated oven for 9 to 11 minutes or until tops are very lightly browned. While warm, lightly press again with wooden skewer to make deeper "X" indentations. Transfer cookies to a wire rack; let cool.
Makes 84 cookies.

To Store: Layer cookies between waxed paper in an airtight container; cover. Store at room temperature for up to 3 days or freeze for up to 3 months.
Recipe and photograph provided by Better Homes and Gardens - BHG.com a member of the Home and Family Network for the best of cooking, gardening, decorating and more. © Meredith Corporation. All Rights Reserved.