Tiffany's Triple Chocolate Chip Cookies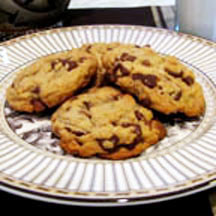 This is my daughter Tiffany's chocolate chip cookie recipe that features three types of chocolate chips in a peanut butter-enhanced traditional chocolate chip cookie dough. She shares them at her children's school and sports events, etc. Because the cookies are so good, she is often asked for her recipe.
Recipe Ingredients:
2 1/2 cups all-purpose flour
1 teaspoon baking soda
1/2 teaspoon baking powder
1/2 teaspoon kosher or sea salt
3/4 cup light brown sugar, firmly packed
3/4 cup granulated sugar
1 cup (2 sticks) butter, softened
1/2 cup creamy peanut butter
2 large eggs
2 teaspoons vanilla extract
1 (6-ounce) package (1 cup) jumbo semisweet chocolate chips
1 (6-ounce) package (1 cup) milk chocolate chips
1 (6-ounce) package (1 cup) mini semisweet chocolate chips
Cooking Directions:
Preheat oven to 350°F (175°C).
In medium bowl whisk together the flour baking soda, baking powder, and salt, mixing well. Set aside.
Cream sugars, butter and peanut butter in a large bowl using an electric mixer at medium speed until texture is fluffy and light in color, about 5 minutes. Add eggs and vanilla; continue to beat an additional 3 minutes or until light and creamy textured.
By hand, stir in flour mixture until just mixed; gently fold in the chocolate chips.
Drop by tablespoonfuls onto parchment-lined or non-stick baking sheets, 2-inches apart.
Bake in the upper of the oven for 10 to 12 minutes, or until lightly browned, turning the baking sheet around halfway through the baking time to allow even baking of the cookies.
Transfer cookies to wire racks to cool. Store in tightly sealed container.
Makes 4 dozen cookies.
Nutritional Information Per Serving (1/48 of recipe): 154.3 calories; 47% calories from fat; 8.6g total fat; 19.8mg cholesterol; 103.5mg sodium; 53.6mg potassium; 18.5g carbohydrates; 0.9g fiber; 8.5g sugar; 17.7g net carbs; 2.2g protein.
Recipe by Tiffany Hodges; photograph by Hope Cantil; copyright © 1999; property of CooksRecipes.com. See Terms of Use.