Brioche & Grape Bread Pudding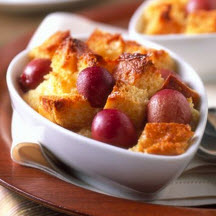 Bread pudding with a unique ingredient twist—fresh grapes are used instead of the traditional raisins! A luscious whipped cream sweetened with brown sugar is simply gilding this lily of a dessert.
Recipe Ingredients:
Pudding:
6 cups brioche, challah, or egg bread, cut into 3/4-inch cubes
1 cup red California seedless grapes
3 large eggs
1 large egg yolk
1 teaspoon vanilla extract
6 tablespoons packed light brown sugar
3 cups heavy cream

Brown Sugar Whipped Cream:
1 tablespoon packed light brown sugar
1 cup heavy cream
1 teaspoon vanilla extract
Cooking Directions:
For Pudding: Preheat oven to 350°F (175°C).
Place bread cubes in 8-inch square baking dish. Sprinkle grapes over bread cubes and toss gently to disperse grapes.
In medium-sized bowl, combine remaining ingredients and whisk until smooth. Pour custard mixture over bread cubes. Stir gently, pressing down on any bread cubes that pop up out of the custard mixture.
Set bread pudding pan into a larger pan, such as a 13x9x2-inch pan, or a roaster. Place doubled pan into pre-heated oven, then pour very hot tap water into the outside pan, filling it at least half way. (This is called a hot water bath and will make the pudding creamier.)
Bake for 50 minutes to 1 hour. Top of pudding should be golden in spots and lightly puffed. Remove from oven, let cool slightly.
Serve warm topped with a dollop of Brown Sugar Whipped Cream.
For Brown Sugar Whipped Cream: Beat all ingredients together until soft peaks form.
Makes 6 servings.
Tip: This can also be baked in individual ramekins set in a hot water bath for about 30 to 40 minutes.
Nutritional Information Per Serving (1/6 of recipe): Calories 664; Protein 11 g; Fat 50 g; Calories from Fat 67 %; Carbohydrates 44 g; Cholesterol 328 mg; Fiber 1 g; Sodium 313 mg.
Recipe and photograph courtesy of California Table Grape Commission.