Burnt Strawberry Cream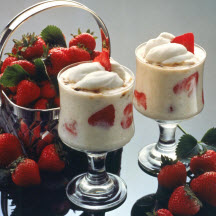 Creamy rice pudding is spooned over strawberries and topped with a crisp, brown sugar crust—a crème brûlée.
Recipe Ingredients:
3 cups cooked rice
3 cups milk
1/3 cup granulated sugar
1/4 teaspoon salt
2 (3-ounce) packages cream cheese, room temperature
1 1/2 teaspoons vanilla extract
1 cup heavy cream, whipped
1 (16-ounce) package frozen sweetened whole strawberries, thawed, drained and sliced in half
1/3 cup brown sugar, firmly packed
Cooking Directions:
Combine rice, milk, sugar and salt in saucepan. Cook over medium heat until thick and creamy, about 30 minutes, stirring frequently. Remove from heat.
Add cream cheese, broken in small pieces, and vanilla. Stir until cheese is dissolved; chill.
Fold in whipped cream. Chill thoroughly.
Arrange strawberries over the bottom of a 12 x 8 x 2-inch baking dish. Spoon pudding over berries. Sprinkle with brown sugar.
Place under broiler for 1 to 2 minutes or just until sugar melts, or use 8 individual ovenproof dishes. Serve immediately.
Makes 8 servings.
Recipe and photograph provided courtesy of USA Rice Federation.