California Walnut-Crusted
Caramel-Bourbon Swirl Cheesecake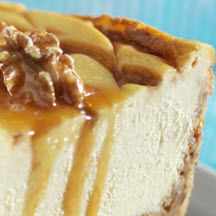 A sweet walnut crust makes an ideal base for this decadent cheesecake. Toasted walnut halves are stirred into the caramel bourbon sauce and spooned over the cheesecake just before serving.
Recipe Ingredients:
1 cup packed dark brown sugar
1/2 cup whipping cream
1/3 cup butter, softened
2 tablespoons bourbon or amber rum
3 cups California Walnut pieces
1 cup granulated sugar- divided use
3 tablespoons melted butter
3 (8-ounce) packages cream cheese, softened
3 large eggs
1/4 cup bourbon or amber rum
1 cup toasted California Walnut halves
Cooking Directions:
In small saucepan, combine brown sugar, whipping cream and butter. Bring to boil over medium-high heat; boil for 3 minutes. Remove 1/3 cup of the sauce; refrigerate until chilled. To remaining sauce add 2 tablespoons bourbon; set aside.
Combine walnut pieces and 1/4 cup of the granulated sugar in food processor; pulse until it resembles coarse crumbs, do not overprocess. Transfer to medium bowl and stir in melted butter. Using back of spoon press nut mixture into bottom and half-way up sides of 9-inch springform pan. Bake in 325°F oven for 15 minutes.
Meanwhile, beat cream cheese with remaining 3/4 cup granulated sugar. Add eggs, one at a time, beating just until blended. Stir in 1/4 cup bourbon. Pour cream cheese mixture into nut crust. Drizzle the 1/3 cup chilled sauce on top; gently swirl with knife.
Return cake to 325°F oven; bake for 1 hour. Turn oven off; leave cheesecake in oven without opening door for another hour, prevents cake from cracking in center.
Cool on wire rack; cover and refrigerate for 4 hours or overnight. Just before serving, gently warm bourbon sauce; stir in toasted walnut halves. To serve, spoon sauce over slices of cheesecake.
Makes 12 servings.
Recipe and photograph courtesy of California Walnuts.