Cannoli Filled with Pistachio Ricotta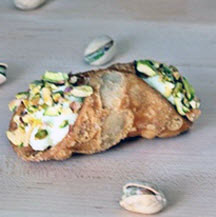 Tube-shaped shells of fried pastry dough, filled with a sweet creamy filling, cannoli originated in Sicily and are an essential part of Sicilian cuisine, as well as being very popular in Italian American cuisine.
Recipe Ingredients:
1/4 cup dried cranberries or dried cherries, chopped
2 tablespoons amaretto liqueur
8 ounces ricotta, well-drained (1 cup)
1/4 cup granulated sugar
2 ounces (1/4 cup) mascarpone, cold
1/4 cup toasted pistachio nuts, chopped
8 large or 12 mini cannoli shells, homemade (recipe follows) or store-bought
Powdered sugar for dusting
Cooking Directions:
Soak the dried cranberries in the amaretto in a small bowl for 30 minutes.
Combine the ricotta and sugar in a small bowl and whip until smooth. Add the mascarpone and stir to incorporate. Be careful not to overmix, or the mascarpone might separate. Fold in the pistachios and dried cranberries with their soaking liquid.
Transfer to a pastry bag fitted with a plain tip and pipe the mixture into the cannoli shells. If you don't have a pastry bag, put the filling into a plastic bag, snip off one corner and squeeze the filling out into the pastry shells. (Do this close to serving time so the shells won't lose their crispness.) Refrigerate until serving time.
To serve, dust with powdered sugar, using a sieve. Serve chilled.
Makes 8 large or 12 mini cannoli.
Recipe and photograph provided courtesy of the American Dairy Association.