Cheddar Apple Tarts with Apricot-Mint Glaze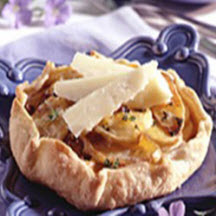 Rustic apple tarts featuring tender pastry enhanced with cheddar cheese and topped with a glistening apricot-mint glaze.
Recipe Ingredients:
Cheddar Pastry:
2 cups all-purpose flour
1/2 cup (2-ounces) shredded sharp or extra-sharp white cheddar cheese
1 1/2 tablespoons granulated sugar
1/4 teaspoon salt
10 tablespoons (1 1/4 sticks) cold, unsalted butter, cut into small chunks
6 to 8 tablespoons ice water
Cheddar Apple Filling:
1/2 cup brown sugar, firmly packed
1/2 cup chopped pecans or walnuts
6 ounces sharp or extra sharp white cheddar cheese, cut into thin slices
6 medium Granny Smith, Jonagold or Jonathan apples (about 2 1/4 pounds) peeled, cored, cut into 1/3-inch slices
1 tablespoon chopped fresh mint, optional
3 tablespoons apricot preserves, warmed white cheddar cheese wedges for topping
Cooking Directions:
Place flour, cheese, sugar and salt in food processor. Process until combined, about 10 seconds. Add butter and process until small particles are formed. With machine running, add water through feed-tube and process just until mixture holds together. Press dough into a flattened 6-inch circle. Wrap in plastic wrap and refrigerate at least 30 minutes or overnight.
To make dough by hand, combine first four ingredients in a medium bowl with a pastry blender. Add butter and blend until small particles are formed. Add just enough water to make dough hold together. Shape into a circle as above and refrigerate at least 30 minutes or overnight.
Preheat oven to 400°F (205°C).
Divide dough into 8 pieces. Roll each piece of dough on a lightly floured board into a circle about 6-inches in diameter. Place a piece of parchment or waxed paper between circles of dough and refrigerate while assembling tarts.
Combine brown sugar and pecans.
To make tarts, make a circle of dough. Place several slices of cheese in center leaving an edge of about 1-inch. Place a generous 1/2 cup of the sliced apples on top, tucking in additional cheese if desired. Sprinkle apples with 1 1/2 tablespoons of the brown sugar-pecan mixture and about 1/2 teaspoon of mint. Bring edges of pastry over apple mixture, pleating edges. Transfer tarts to a parchment lined baking sheet. Bake until golden brown and apples are tender, 25 to 30 minutes. Let tarts cool on wire rack. While warm, drizzle each tart with about 1 teaspoon apricot preserves. If desired, top with additional wedges of cheddar. Tarts are best served the day they are made.
Makes 8 servings.
Recipe and photograph provided courtesy of the American Dairy Association.