Cheesecake Treasures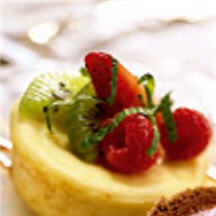 These creamy cups are easier to make, lower in fat, and neater to serve than a full-size cheesecake.
Recipe Ingredients:
Nonstick cooking spray
3 tablespoons finely crushed vanilla wafers or graham crackers
12 ounces reduced-fat cream cheese (Neufchatel), softened
3/4 cup granulated sugar
1 tablespoon all-purpose flour
1 1/2 teaspoons vanilla extract
1 (4-ounce) carton refrigerated or frozen egg product, thawed (about 1/2 cup)
1 1/2 teaspoons finely shredded lemon peel or orange peel
3/4 to 1 cup peeled, sliced, and halved kiwifruit; quartered strawberries; whole raspberries; halved grapes; and/or orange sections
Thinly sliced mint leaves (optional)
Cooking Directions:
Spray the bottom and sides of twelve 2 1/2 or 2 3/4-inch muffin cups with nonstick cooking spray. Sprinkle with crushed wafers or crackers. Set aside.
Beat cream cheese in a medium mixing bowl with an electric mixer on medium speed until smooth. Add sugar, flour, and vanilla. Beat on medium speed until fluffy. Add egg product, beating on low speed just until combined. Do not overbeat. Stir in lemon peel or orange peel. Divide cream cheese mixture evenly among the muffin cups.
Bake in a 325°F (160°F) oven about 20 minutes or until set. Cool cheesecakes in pan on a wire rack about 30 minutes or until firm. Loosen the cheesecake edges from the muffin cups; carefully remove cheesecakes. Cover and chill for at least 4 hours or up to 24 hours.
Just before serving, arrange fresh fruit on top of each cheesecake. If desired, garnish with mint leaves.
Makes 12 servings.
Nutritional Information Per Serving (1/12 of recipe): calories 157, total fat: 7g, saturated fat: 4g, cholesterol: 21mg, sodium: 136mg, carbohydrate: 19g, fiber: 1g, protein: 4g, vitamin A: 0%, vitamin C: 42%, calcium: 4%, iron: 3%.
Recipe provided by Better Homes and Gardens - BHG.com a member of the Home and Family Network for the best of cooking, gardening, decorating and more. © 2003 Meredith Corporation. All Rights Reserved.