Cherry-Chocolate Heart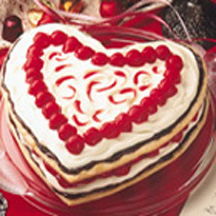 Surprise your sweetheart with this easy and delicious cherry chocolate heart torte. Tip: This dessert can be shaped to fit any occasion.
Recipe Ingredients:
1 (15-ounce) package refrigerated pie crusts
1 (8-ounce) package cream cheese, softened
1 cup powdered sugar
1 teaspoon almond extract
1/2 cup whipping cream
2/3 cup hot fudge ice cream topping
1 (21-ounce) can cherry filling and topping
Cooking Directions:
Allow both crust pouches to stand at room temperature 15 to 20 minutes. Remove one crust from pouch; unfold. Press out fold lines.
If crust cracks, wet fingers and push edges together. Sprinkle 1 teaspoon flour over crust. Turn crust, floured side down, on ungreased cookie sheet. Using paper pattern as guide, cut crust into heart shape.* Generously prick heart crust with fork.
Bake in a preheated 450°F (230°C) oven 9 to 11 minutes, or until lightly browned. Let cool. Repeat with the remaining crust.
Combine cream cheese, powdered sugar and almond extract in a small bowl; beat until smooth. Add whipping cream and beat until thickened.
To assemble, place one heart-shaped pie crust on serving plate; spread with 1/3 cup of the hot fudge. Carefully spread half of cream cheese mixture over hot fudge. Spoon 2/3 of the cherry filling over cream cheese. Spread second crust with remaining hot fudge and place over filling. Carefully spread with remaining cream cheese mixture. Spoon remaining cherry filling about 1-inch from edge.
Refrigerate until serving time. Store any remaining torte in refrigerator.
Makes 8 to 10 servings.
*To make pattern, cut a piece of paper into a heart shape about 10 1/2-inches high and 10-inches wide.
Recipe and photograph are provided courtesy of the Cherry Marketing Institute.