Chocolate Chip and Strawberry Crêpes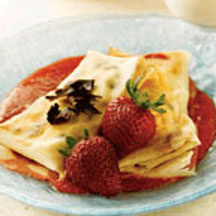 Most of the assembly of these elegant chocolate chip and strawberry crêpes is done ahead of time. When ready to serve, simply heat assembled crêpes in a sauté pan in a little butter and serve topped with a Strawberry-Grand Marnier sauce and fresh sliced strawberries.
Recipe Ingredients:
Strawberry-Grand Marnier Sauce:
1/4 cup granulated sugar
3 1/2 tablespoons orange juice
8 ounces Fresh California strawberries, stemmed
1 1/2 tablespoons Gran Marnier
Filling:
4 ounces cream cheese
2 tablespoons sour cream
2 tablespoons confectioner's (powdered) sugar
1/2 teaspoon vanilla extract
3/4 cup miniature semisweet chocolate chips
2 ounces fresh California strawberries, sliced
12 (6-inch) plain crêpes (see recipes for Basic or Plain Crêpes or Dessert Crêpes)
6 tablespoons butter
Additional California strawberries, sliced for garnish
Cooking Directions:
For Strawberry-Grand Marnier Sauce: In saucepan, heat sugar and orange juice until sugar dissolves; cool. In blender, purée strawberries with orange juice mixture and Grand Marnier. Strain.
For Filling: Using an electric mixer, combine cream cheese, sour cream, sugar and vanilla until smooth. Stir in chocolate chips until evenly incorporated.
To Assemble Crêpes: Lay 1 crêpe on work surface. Place 1 tablespoon cream cheese mixture in center of crêpe, top with 3 or 4 slices strawberry. Fold up bottom edge of crêpe, fold in both sides and roll up to form a rectangular package. Repeat with remaining crêpes. Refrigerate, covered.
When ready to serve, melt 1 tablespoon butter over medium heat. Cook 2 crêpes about 4 minutes on each side or until golden brown and warmed through. Place crêpes on plate; spoon some Strawberry-Grand Marnier Sauce on top. Garnish with sliced strawberries. Serve immediately.
Makes 12 crêpes or 6 (2-crêpes) servings.
Recipe and photograph provided courtesy of California Strawberry Commission. ©2009 California Strawberry Commission. All rights reserved. Used with permission.