Cinnamon Chocolate Meringue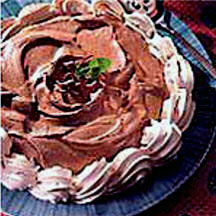 Go ahead and indulge! With only one gram of fat and practically no cholesterol in each serving, this is one elegant chocolate dessert you can enjoy guilt-free.
Recipe Ingredients:
Meringue Pie Shell:
2 large egg whites
1/4 teaspoon ground cinnamon
1/8 teaspoon cream of tartar
1/2 cup granulated sugar
Filling:
1/2 cup packed brown sugar
1/3 cup unsweetened cocoa powder
1/2 cup evaporated fat-free milk
1/4 cup refrigerated or frozen egg product , thawed
1 tablespoon cornstarch
Topping:
1 (1.3-ounce) envelope whipped dessert topping mix
1/2 cup fat-free milk
Shaved semisweet chocolate for garnish (optional)
Fresh mint for garnish (optional)
Cooking Directions:
For Meringue Pie Shell: Draw an 8-inch circle on heavy brown paper*. Place paper on baking sheet.
In a mixing bowl combine egg whites, cinnamon and cream of tartar. Beat with an electric mixer on medium speed until soft peaks form (tips curl). Gradually add sugar, 1 tablespoon at a time, beating on high speed about 4 minutes more or until mixture forms stiff, glossy peaks (tips stand straight) and sugar dissolves.
Spread 1 cup of the meringue over the 8-inch circle on the paper.
Spoon remaining meringue into a decorating bag fitted with a large star tip (about 1/2-inch opening). Pipe a shell border on edge of meringue circle about 1 1/4-inches high. The completed shell should be about 9 1/2-inches in diameter (Or, spread all of the meringue over a 9 1/2-inch circle building up the edge.)
Bake in a 300°F (150°C) oven for 40 minutes. Turn off oven. Let dry in oven with closed door for 1 hour. Cool on a wire rack. Carefully remove paper from meringue shell. Place on serving plate.
For Filling: In a medium saucepan combine brown sugar, cocoa powder, evaporated fat-free milk, egg product, and cornstarch. Cook and stir over medium heat until mixture is thickened and bubbly. (Mixture will be very thick.) Cook and stir for 2 minutes more. Remove from heat. Cool to room temperature.
For Topping: In a small mixing bowl prepare whipped dessert topping mix according to package directions except use the fat-free milk. Stir a small amount of whipped topping into chocolate filling to lighten it. Then fold remaining chocolate mixture into whipped topping mixture. Spoon mixture into Meringue Pie Shell. Cover and chill for 2 to 24 hours. Garnish with chocolate shavings and mint, if desired.
Makes 8 servings.
Make-Ahead Tip: Prepare the Meringue Pie Shell up to 1 month ahead; store meringue in a covered container in the freezer. To serve, add the filling and chill for 2 to 24 hours.
*Note: Use only paper that is specially made for baking purposes.
Nutritional Information Per Serving (1/8 of recipe): calories: 161, total fat: 1g, cholesterol: 1mg, sodium: 65mg, carbohydrate: 32g, protein: 4g, vitamin A: 5%, calcium: 9%, iron: 6%.
Recipe provided by Better Homes and Gardens - BHG.com a member of the Home and Family Network for the best of cooking, gardening, decorating and more. © 2003 Meredith Corporation. All Rights Reserved.