Country Pumpkin Torte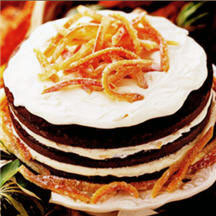 This high and mighty layered spice cake stands tall as a proud centerpiece on your dessert buffet.
Recipe Ingredients:
Cake:
2 2/3 cups all-purpose flour
1 tablespoon baking powder
1 teaspoon pumpkin pie spice
3/4 teaspoon baking soda
3/4 teaspoon salt
3/4 teaspoon ground cloves
1 cup vegetable shortening
1 cup packed brown sugar
1/4 cup full-flavored molasses
4 large eggs
1 cup milk
3/4 cup canned pumpkin
1 tablespoon grated fresh ginger
Cream Cheese Frosting:
1 (8-ounce) package softened cream cheese
1/2 cup softened butter
2 teaspoons vanilla extract
4 cups sifted powdered sugar - divided use
1 tablespoon lemon juice
Candied Orange Peel (optional)
2 medium oranges
1 1/3 cups granulated sugar
1/3 cup water
Sugar
Cooking Directions:
For Cake: Preheat oven to 350°F (175°F). Grease and lightly flour three 9 x 1 1/2-inch or 8 x 1 1/2-inch round baking pans; set aside.
Combine flour, baking powder, pumpkin pie spice, baking soda, salt, and cloves; set aside. In a large mixing bowl beat shortening for 30 seconds; beat in brown sugar and molasses with an electric mixer on medium to high speed until smooth.
Add eggs, one at a time, beating for 1 minute after each addition. In a small bowl stir together milk, pumpkin, and ginger. Add dry ingredients and pumpkin mixture alternately to beaten mixture. Beat on low speed after each addition until combined. Pour batter into prepared pans.
Bake for 22 to 28 minutes or until a wooden toothpick inserted near center comes out clean. (If all three layers won't fit in oven at the same time, or if you do not have 3 pans, cover one-third of the batter and chill up to 45 minutes before baking.) Cool cakes in pans on wire racks for 10 minutes. Remove cakes from pans. Cool thoroughly on wire racks.
For Cream Cheese Frosting: In a large mixing bowl beat 1 (8-ounce) package softened cream cheese, 1/2 cup softened butter, and 2 teaspoons vanilla extract with an electric mixer on medium speed for 30 seconds. Slowly add 2 cups sifted powdered sugar and 1 tablespoon lemon juice, beating well.Make
Add 2 cups additional powdered sugar, beating well. If necessary, beat in additional powdered sugar or lemon juice until frosting reaches spreading consistency. Makes 16 servings.
For Candied Orange Peel: Cut peels of oranges lengthwise into quarters, cutting just through the pulp to the surface of the fruit. Pry back the quartered peel with a spoon. Scrape away the soft, white part inside the peel. If white pith is left on, the peel will be bitter. Cut peel into 3/8-inch-wide strips. Wrap and refrigerate peeled fruit for another use.
In a 2-quart saucepan combine the 1 1/3 cups of granulated sugar and the water. Cover and bring to boiling. Add orange peel strips. Return to boiling, stirring constantly to dissolve sugar. Reduce heat. Cook, uncovered, over medium-low heat. Mixture should boil at a moderate, steady rate over entire surface. Cook, stirring occasionally, for 15 minutes or until peel is almost translucent.
Using a slotted spoon, remove peel from syrup, allowing it to drain. Transfer peel to a wire rack set over waxed paper. Set cooked peel aside until cool enough to handle but still warm and slightly sticky. Roll peel in additional sugar to coat. Continue drying on rack for 1 to 2 hours. Store, tightly covered, in a cool, dry place for up to 1 week. Or, freeze for up to 6 months. Makes 48 pieces (about 2 cups).
To Assemble: Place one cake layer on serving plate; spread with one-third of the Cream Cheese Frosting. Top with second layer cake; spread with one-third of the frosting. Top with third cake layer and remaining frosting. Arrange Candied Orange Peel on top, if desired.
Makes 16 servings.
Make-Ahead Tip: Prepare and bake cake layers as directed; cool completely. Place cakes on baking sheets and freeze until firm. Once firm, place cakes in 2-gallon freezer bags and freeze up to 3 months. Before serving, thaw cakes at room temperature several hours. Frost as directed.
Nutritional Information Per Serving (1/16 of recipe): calories: 467, total fat: 25g, saturated fat: 11g, cholesterol: 85mg, sodium: 356mg, carbohydrate: 56g, fiber: 1g, protein: 5g, vitamin A: 40%, vitamin C: 2%, calcium: 11%, iron: 14%.
Recipe provided by Better Homes and Gardens - BHG.com a member of the Home and Family Network for the best of cooking, gardening, decorating and more. © 2003 Meredith Corporation. All Rights Reserved.