Frosty Strawberry Pops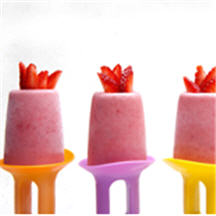 Kids of all ages will enjoy these very berry-delicious summertime frozen treats on a stick!
Recipe Ingredients:
1 pint basket California strawberries, stemmed
1 (5-ounce) can evaporated milk
3 tablespoons frozen orange, cranberry or pineapple juice concentrate
Cooking Directions:
In blender container, blend all ingredients about 1 minute until smooth.
Pour into eight 3-ounce, wax-coated paper cups.* Place in shallow pan and insert a wooden craft stick** or plastic spoon into the center of each. Freeze until firm, about 4 hours.
After pops are frozen, they can be transferred to a reclosable plastic bag for freezer storage. To release pops from cups, dip briefly into hot water up to rim of cup.
Makes 8 servings.
*Cups can be found in the paper goods or soap section of most supermarkets.
** Wooden craft sticks are available in hobby shops and variety stores.
Nutritional Information Per Serving (1/8 of recipe): 76 calories; 2 g fat; 5 mg cholesterol; 25 mg sodium; 15g carbohydrate; 1 g fiber; 2 g protein.
Recipe provided courtesy of California Strawberry Commission. ©2003 California Strawberry Commission. All rights reserved. Used with permission.