Fruity Clafouti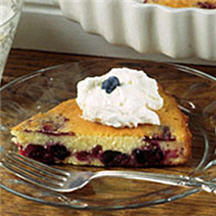 The rustic French dessert, clafouti (pronounced kla-foo-TEE), is a cross between a dense custard and a cake, and can be made with large variety of fruits, including blueberries, strawberries, cherries, peaches, pears or plums. It's at its best when served warm topped with lightly sweetened whipped cream.
Recipe Ingredients:
2/3 cup granulated sugar
1/2 cup (1 stick) butter, room temperature
4 large eggs
1 cup all-purpose flour
1 tablespoon fresh lemon juice
1 teaspoon vanilla extract
1/4 teaspoon ground nutmeg
1/8 teaspoon salt
2 cups fruit such as blueberries, strawberries, blackberries, cherries, peaches, pears or plums
Cooking Directions:
Preheat oven to 375°F (190°C). Lightly greased 9-inch quiche dish or cake pan; set aside.
Beat sugar and butter in mixer bowl until light and fluffy. Beat in eggs until well blended. Add flour, lemon juice, vanilla, nutmeg and salt; beat until smooth.
Fold fruit into batter. Spread in prepared quiche dish or cake pan.
Bake n center of preheated 375°F (190°C) oven until top is lightly browned and knife inserted in center comes out clean, 40 to 50 minutes.
Cool on wire rack.
Makes 8 servings.
Nutritional Information Per Serving (1/8 of recipe): Calories: 282; Total Fat: 14g; Saturated fat: 8g; Polyunsaturated fat: 1g; Monounsaturated fat: 4g; Cholesterol: 124mg; Sodium: 74mg; Carbohydrates: 34g; Dietary Fiber: 1g; Protein: 5g; Vitamin A: 510.3IU; Vitamin D: 29IU; Folate: 43.3mcg; Calcium: 22.5mg; Iron: 1.3mg; Choline: 69.4mg.
Recipe and photograph provided courtesy of the American Egg Board (AEB) and Egg Nutrition Center (ENC).