La Lechera Sweet Tamales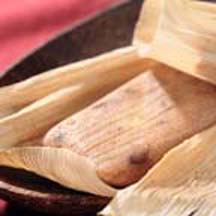 Sweet tamales are a traditional Mexican dessert served during special times and events.
Recipe Ingredients:
1 (8-ounce) package dry corn husks - divided use
1/2 cup (1 stick) butter, softened
3 cups masa harina flour
1 tablespoon ground cinnamon
1 teaspoon salt
1 1/4 cups warm water
1 (14-ounce) can NESTLÉ LA LECHERA Sweetened Condensed Milk
1/4 cup vegetable oil
1 can (20 ounces) crushed pineapple in 100% juice, undrained
1/2 cup raisins
1/2 cup chopped pecans
Cooking Directions:
Soak 18 large corn husks in warm water for at least 1 hour or until softened and easy to fold.
Beat butter in large mixer bowl until creamy. Combine flour, cinnamon and salt in medium bowl. Alternately add flour mixture, water, sweetened condensed milk and oil to butter, mixing well after each addition until consistency of thick cake batter (masa). Stir in pineapple and juice, raisins and nuts.
Spread 1/3 cup masa mixture, using back of a spoon, to form a square in the center of the lower wider portion of one soaked corn husk. Fold right then left edge of husk over masa. Fold up bottom edge. Repeat with remaining masa mixture and soaked corn husks.
Place vegetable steamer in pot with lid; add water to just below steamer. Arrange tamales upright in steamer rack. Cover top of tamales with remaining dry husks and a damp towel; cover. Bring to a boil; reduce heat to low. Steam, adding water as needed, for about 1 hour or until masa pulls away from husks. Serve warm.
Makes 18 sweet tamales.
Recipe and photograph are the property of Nestlé® and Meals.com, used with permission.