Macadamia White Chocolate Mousse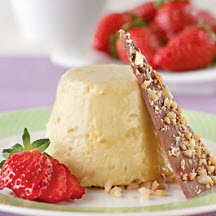 Recipe and photograph courtesy of Australian Macadamias.
Recipe Ingredients:
1 tablespoon unflavored gelatin
4 tablespoons water
3 tablespoons brandy
6 ounces white chocolate bars
3 large eggs
1/3 cup granulated sugar
1 1/4 cup whipped cream
1/2 cup macadamias
Chocolate Wedges:
3 1/2 ounces milk chocolate chips
3 tablespoons macadamias, roasted and chopped
Cooking Directions:
Set aside 6 (1 cup) glasses or grease plain molds with light oil.
For Mousse: In a small saucepan, soften gelatin in water and brandy. Dissolve over low heat.
Melt white chocolate in a bowl over just simmering water.
Beat egg yolks and sugar together 4 to 5 minutes Beat in gelatin. Stir mixture into chocolate until whole mixture smooth and coats spoon. Remove and cool. Fold in whipped cream and macadamias.
Beat egg whites to soft peaks. Fold through mixture. Pour into glasses or molds. Chill until set.
If using molds, run a small sharp knife around inside to release mousse from sides. Invert onto plates and shake gently to remove from molds. Serve with berries and chocolate wedges.
For Chocolate Wedges: Line a 9-inch cake or spring from pan with a circle of baking paper. Melt milk chocolate pieces as above. Pour into pan and spread out to edges. Sprinkle 3 tablespoons roasted chopped macadamia halves. Chill until set.
Remove from pan and peel away paper. Using a hot wet knife cut into wedges.
Makes 6 servings.
Recipe and photograph courtesy of Australian Macadamias.